Our First Big Con Adventure!
Hi, Dice Rollers!
It's been an incredible month for us here at Fumble Folks!
We launched our first Kickstarter & funded, we re-worked a classic one-shot & released it, and we went to Dragonmeet & had a fantastic time!
We're exhausted right now, but it's been worth it. Sleep has never been our most proficient skill, anyway!

This past weekend, we left the HQ for London for our first Dragonmeet.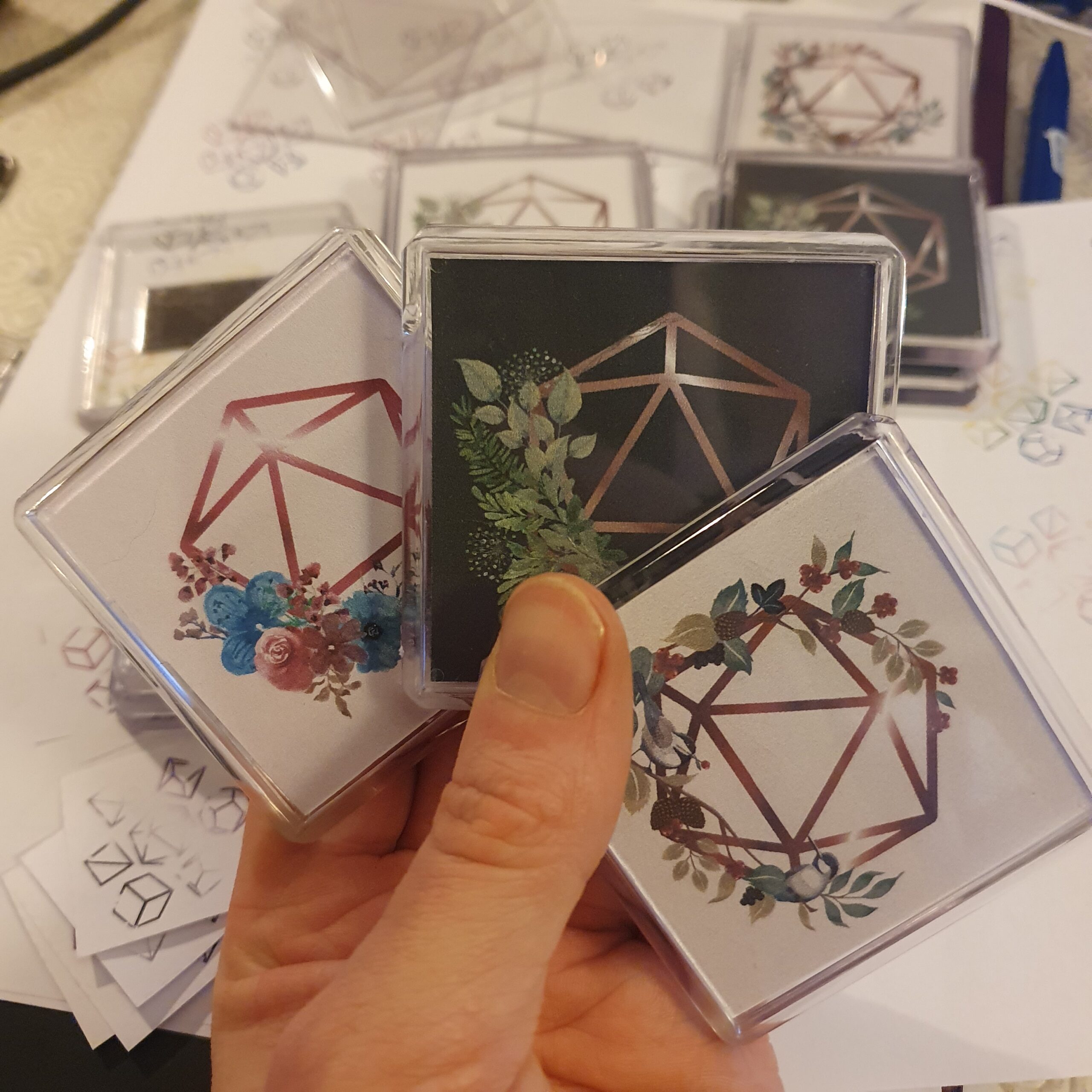 One of the largest gaming conventions in the UK, this one is much more focussed on TTRPGs, so we were very much looking forward to it. It was only our fourth jaunt as traders, and our largest to date, so stakes were high!
Previously, we only had a few items on our stalls, mainly our three one-shots and the Beginner's Bundle, but this time we prepped a host of brand new merch designed by Bree, including T-shirts, magnets, greetings cards and badges!
We were very satisfied to get ourselves a badge maker, and Bree's d20 designs look good on a variety of different merchandise types. We're particularly fond of the coasters (though the delivery didn't turn up in time), and these greetings cards!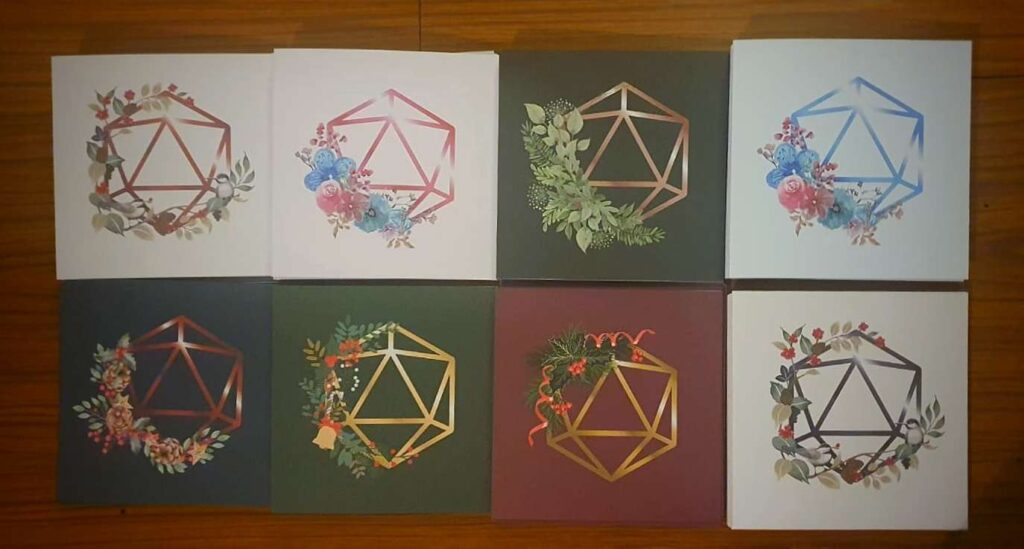 However, the con was a success! The stall looked fantastic with all the new stock on it and we had an amazing time! We were lucky enough to be right next to our good friend Rich of Hatchling Games, saw some old friends and made some new ones. Best of all, we constantly had lovely conversations with customers, whether they bought from us or not; there was a wonderful, inclusive and welcoming feel to the whole event.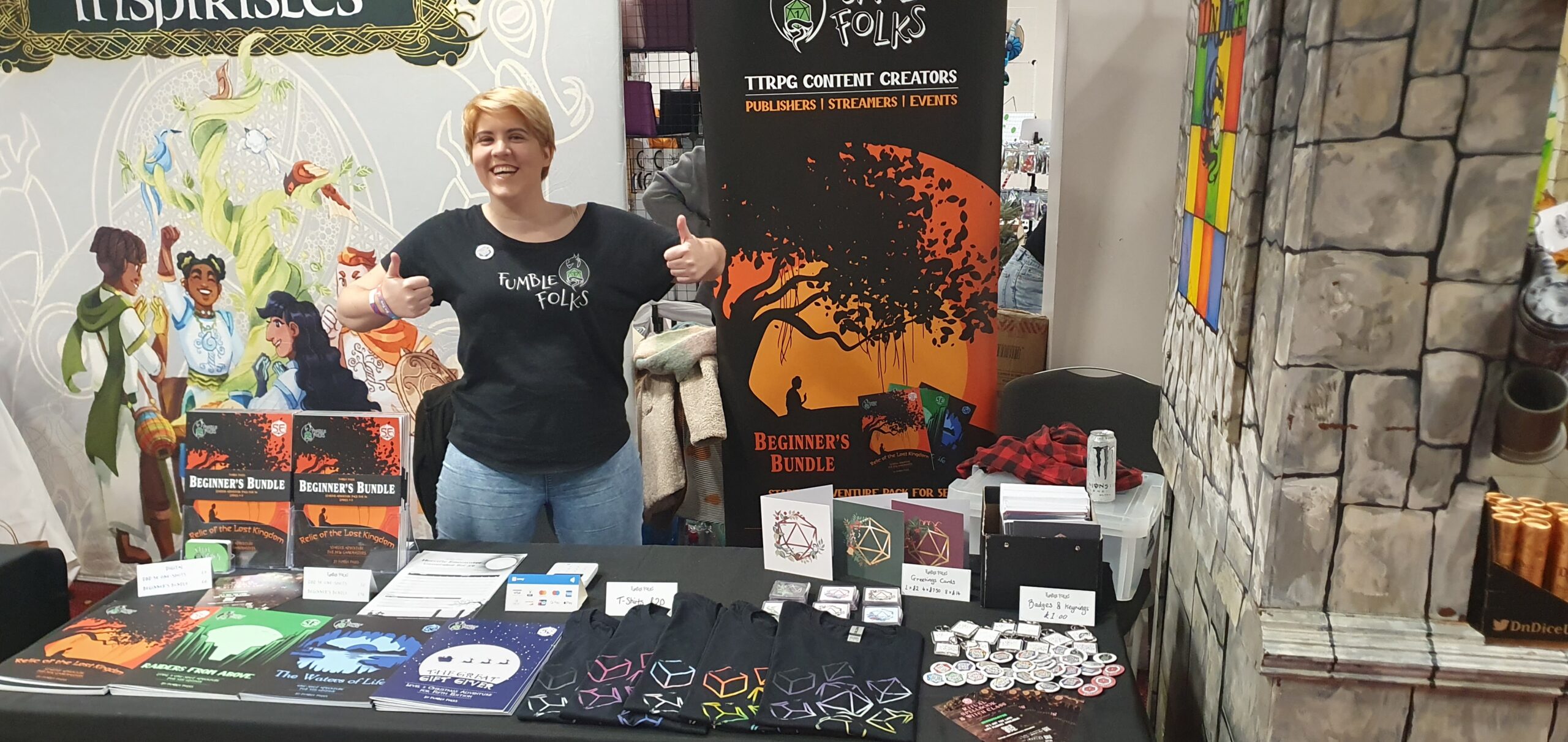 It was a wonderful first experience of Dragonmeet, and we're looking forward to going back again next year (and if the dragon is listening, maybe make it two days so we can have more of a look around?). Maybe we'll see you there!
---
* We are affiliated with DriveThruRPG, so if you click this link you will be directly supporting Fumble Folks!
How to Support Fumble Folks
Hi and thank you for reading 15+ Great Gift Ideas for Geeks and Nerds! If you like what we do and wish to support Fumble Folks, here are a few ways you can do that:
Follow us on our social media platforms. Find the links here: linktr.ee/fumblefolks
Join our Discord Server and help our community grow!
Join our Patreon and pledge the low price of a coffee every month. This will enable us to grow and do bigger and better things with Fumble Folks. Check out the Tiers we offer on Patreon or check out our other blog post here (coming soon).
Listen to the Rapid Riders on Spotify or come and watch us live and give us that all-important Subscription on Twitch. Amazon Prime users get 1 free Prime Sub a month to use on your favourite Twitch creator, so use it wisely!
Click on our Affiliate Links! We have been very lucky to be affiliate with a few companies including EMP, Hero Forge, iwantoneofthose.com among others. Clicking these links helps us as we get a small commission if you purchase anything, but won't change anything for you. Win/win!