Our SECOND published one-shot is now for sale!
Hey again everyone!
We're excited to announce that our second published one-shot is now on sale online AND in stores!
It's so exciting that we have started printing and selling physical copies of our work; it makes it seems o real!
Relic of the Lost Kingdom is special because it's aimed specifically at brand new GMs and is very beginner friendly. This means that a whole group of newbie D&D nerds can pick up and play this starter adventure, and hopefully come back for more.
The layout and descriptions are easy to read and easy to understand. They're spelled out as if the reader knows almost nothing about D&D (except the basics) and really concentrates on the most important thing: having fun!
If you want to buy the book, you can find the digital copy online on DriveThruRPG* and Etsy, and a physical copy online at Etsy and the Rules of Play website. If you're local to Cardiff, you can find copies in Rules of Play, Arcade Vaults, Geek Retreat and Forbidden Planet.
If you end up running the game, please let us know how it went! Join us on Discord and tell us all about it!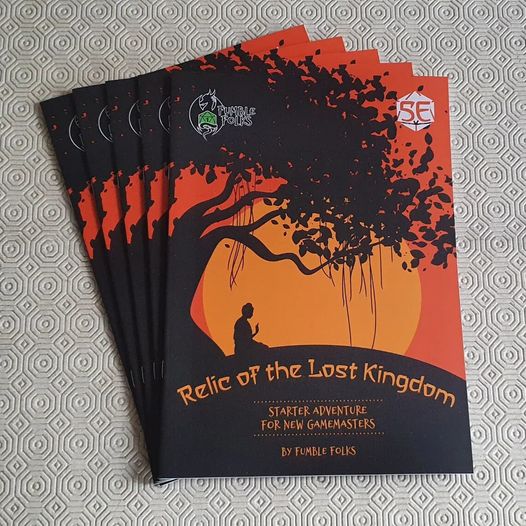 Relic of the Lost Kingdom is aimed at brand new GMs and players and is a 3–4 hour adventure for a party of 4-5 1st level characters. The scenario is set in a lightly-populated area and designed to be transplantable into most other settings.
In this adventure, the characters are tasked with protecting a local monastery from a nightly horde of undead. A group of adventurers had previously taken a relic from a nearby tomb and have accidentaly unleashed the undead within.
For 4-6 Level 5 characters, this One Shot was written by Ben O'Keefe, edited by Phill May and Catrin Jones and designed by Bree Scott-Jones.
Thank you all!
FumbleFolks Team
* We are affiliated with DriveThruRPG, so if you click this link you will be directly supporting Fumble Folks!
---
How to Support Fumble Folks
Hi and thank you for reading 15+ Great Gift Ideas for Geeks and Nerds! If you like what we do and wish to support Fumble Folks, here are a few ways you can do that:
Follow us on our social media platforms. Find the links here: linktr.ee/fumblefolks
Join our Discord Server and help our community grow!
Join our Patreon and pledge the low price of a coffee every month. This will enable us to grow and do bigger and better things with Fumble Folks. Check out the Tiers we offer on Patreon or check out our other blog post here (coming soon).
Listen to the Rapid Riders on Spotify or come and watch us live and give us that all-important Subscription on Twitch. Amazon Prime users get 1 free Prime Sub a month to use on your favourite Twitch creator, so use it wisely!
Click on our Affiliate Links! We have been very lucky to be affiliate with a few companies including EMP, Hero Forge, iwantoneofthose.com among others. Clicking these links helps us as we get a small commission if you purchase anything, but won't change anything for you. Win/win!
Above all, thank you for reading and stopping by! Any support is so much appreciated. Here's to the future of Fumble Folks!
Recent Posts
Archive
December 2023
M
T
W
T
F
S
S
1
2
3
4
5
6
7
8
9
10
11
12
13
14
15
16
17
18
19
20
21
22
23
24
25
26
27
28
29
30
31
---